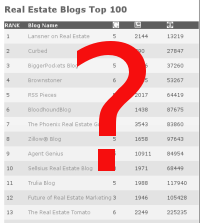 It has been just over a year since I first started to play with an idea of compiling a list of real estate blogs, and to sort them according to Alexa rank, Google PR and Technorati Rank. I have decided to revive the list and it is now live and well on Go Beyond MLS again, where it all started.
Why is the list back on this website?
Some of you may remember that I have dedicated a separate domain for the list (www.top100realestateblogs.com), which is no loger in my possession and you probably still can snatch it from Go Daddy if you so desire. Not sure what you can do with it though….
I have decided to abandon that domain simply because it is much easier to "pump some juice" into the list from this blog, as it is more recognizable, has more traffic and ranks much better than the other domain did. Truth has to be told that I did not promote www.top100realestateblogs.com with enough excitement and energy as this blog or my other blogs.
Either way I believe Go Beyond MLS is much better suited to be a home for the list of Top 100 Real Estate blogs.
Substantial Change- All Links Are SEO Friendly Now
One of the things I always wanted to accomplish with the list is that I want real estate bloggers to truly benefit from the list. To accomplish that instead of publishing the list via a javascript code, which was invisible to search engines, the list now published through a PHP code that in essence is plain old HTML. The list is now visible and indexable to search engines.
While only about top 20 blogs on the list will have some share of the traffic the list receives, I hope some juice along with page rank will be transfered to all the blogs on the list.
Is it just another link exchange farm?
Some may come to that conclusion while looking at the list. But since I do not ask for a link back to this blog in order to be featured on the list, it can hardly be viewed as link farm scheme. In fact it can serve as a good resource for advertisers looking to expend their brand into real estate blogging community.
How Often Is The List Updated?
At the very minimum, the list will be updated once a week, therefore if you just submitted an inclusion request your blog may not be yet on the list. Be sure to come back and visit the list a week from now.
Final Thought
If you ever come across this blog, I want you to know that it is never too late to submit your blog to be featured on the list. If you are a real estate agent but do not have your own blog, I hope the list will serve you as an encouragement. I am certain you can regonize at least few of the blogs on the list. There is also much we can learn by observing the blogs on the list. Some of them shine as great examples of blogging in real estate- more to come on the subject in the future. So stay tuned and happy blogging!