After announcing the list of Top 100 Real Estate Blogs, I realize that I left many are under the impression that this list will be published here on this blog. In yesterday's post I just simply copied pasted the list from http://geekrealtors.com: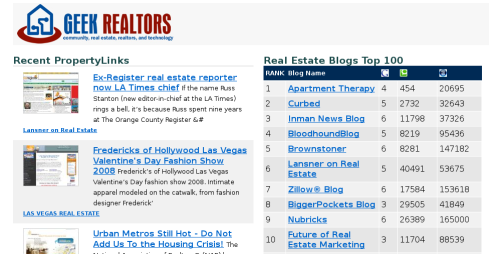 As you can see from the above screen shot, there are two main columns on the list. Named Property Links and Real Estate Blogs Top 100. Basically the entire page is produced from data we receive via API from websites like Technorati and Alexa. The Property Links column shows the latest post from the blogs on the list to the left- the Real Estate Top 100.
I do not anticipate to publish the entire list on my blog again any soon, so if you would like to see how your blog is doing you have to visit the above described page yourself. Please remember that the list will be updated once a week.
I know that creating the list I have missed many outstanding real estate blogs. If you have one feel free to submit it to me at vlad @ go-beyond-mls.com