Shortly after publishing the previous post, an anonymous comment was submitted via contact form of the website.
Here is what it said:
just so you know, Ms. Slader is the only employee left at Dotnext. Everyone was let go yesterday
Note to new readers: Dotnext Inc is a parent company of LeapFish.
The Contra Costa Time in fact confirms that Dotnext has been "downsizing" while quoting the CEO of the company:
…."The company has downsized," said Ben Behrouzi, a Danville resident who is founder and principal executive at DotNext….
…At its peak a few months ago, DotNext had about 100 workers. Now it has about 15, Behrouzi estimated. Numerous employees were let go this week…

The real reason for downsizing and possible bankruptcy maybe directly related to a lawsuit…
Cortellessa vs Dotnext Inc
For the sake of brevity(you can find all the documents of this case on Alameda County Superior Court's Website), I will only provide copies some documents. Bellow is the copy of the original complaint:
Cortellessa vs Dotnext
According to court's documents Ms. Cortellessa and the class action members in the above lawsuit were awarded a settlement of $85,000:
Cortellessa vs Dotnext – Judgement
However recently filed "Notice of Defendants' Failure to Deposit Settlement Payment with Settlement Administrator Filed" says it all – Dotnext/LeapFish failed to pay:
Cortellessa vs Dotnext – Failure to Deposit Settlement Payment
A "Civil Order of Examination (Order) Issued" suggest that Dotnext Inc may have some explaining to do about inability to pay the settlement:
Cortellessa vs Dotnext – Civil Order of Examination
The above document which was filed on August 3, 2010 states that the Defendant Dotnext/LeapFish is considering "bankruptcy or other form of liquidation of assets"(to see the full size of the image bellow just click on it):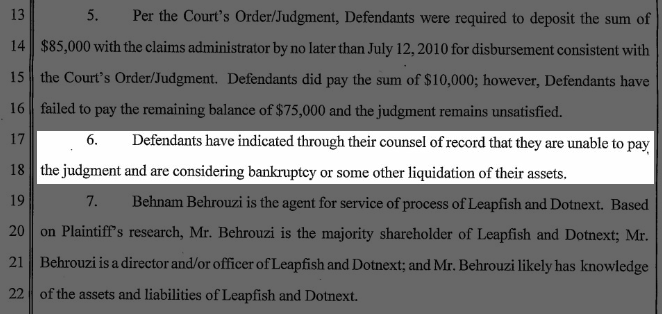 In the August 12, 2010 article by George Avalos of Contra Costa Times, CEO of Dotnext/Leapfish continues to deny any rumors about possible bankruptcy:
"We're not filing for bankruptcy," Behrouzi said. "We haven't even considered filing for it."
No matter what the end result of this ongoing lawsuit may be, those familiar with the story of LeapFish may ask what happened to the $10M LeapFish allegedly raised in the pre-launch phase? Of course the bigger question is whether or not LeapFish will be able to bounce back and recover from this "unpleasant setback"?
Disclosure: The above post is my personal opinion and does not represent official position on the issue of any of my clients or my business partners. Comments (if any) bellow do not represent my opinion nor do they represent position on this topic of my clients and business partners.
Related Posts Elsewhere:
Cuil No Longer – Leapfish To Deadpool Next? – Andy Beard predicts LeapFish heading straight into the deadpool.
Leapfish To Deadpool Next? – the one and only Lord Matt agrees with Andy's prediction on his fantastic website.