UPDATE May13, 2010: Things pertaining to LeapFish.com, their founders and management, along with related startups are no longer of interest to me, therefore no further comments are allowed on this post. There are also more reliable sources out there (such as Better Business Bureau) to help you make an informed decision about LeapFish.
***You may also want to know that the Law Firm of Daniel Bakondi, in San Francisco, CA, is investigating a possible Class Action Law Suit Against LeapFish.
UPDATE Feb. 5, 2010: It appears LeapFish is no longer showing the link in the footer of their website to their "directory" I wrote about bellow: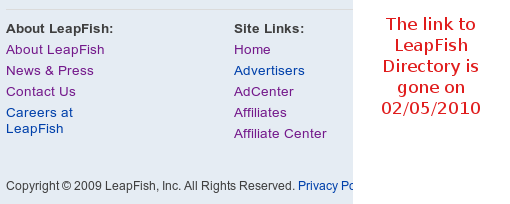 This change must have been implemented today as Bing.com's cached page of LeapFish from yesterday February 4, 2010 still has the link: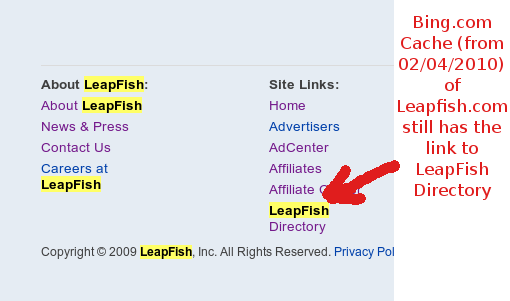 LeapFish has also implemented robots.txt file on their website disallowing web crawlers from indexing the directory:


Few days ago I tried to to get attention of Google's Anti-Spam Czar – Matt Cutts via his FriendFeed account. I wanted Matt to comment about LeapFish's latest directory- but I realize, it may not be Google's practice to comment on these sort of things publicly. That or you need to be Michael Gray, Aaron Wall or Andy Beard to get some one like Matt Cutts to listen to you.
So what is my latest beef with LeapFish? Their spammy directory located at http://www.leapfish.com/dr/ – my apologies for not providing a live link, I consider LeapFish to be an unsafe website. It also appears by my estimates that Google is indexing this new directory at the rate of about 50 pages a day- there are about 200 pages in Google's index from this "directory" as of this writing.
So I invite those who are still with me to explore some of the pages from the above mentioned directory. One of the first pages from the directory that jump at me was "Shopping":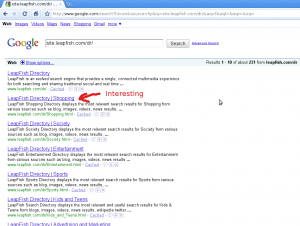 Clicking through to the page on LeapFish.com you are given opportunity to "narrow" your search- so I decide to narrow mine to "Death Care":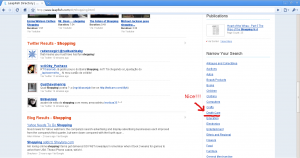 What do you know?!!! Now you can narrow your search geographically- naturally I selected New Jersey the state I live in: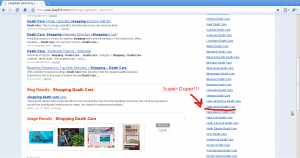 How about that?!! LeapFish knows all the counties in the state of New Jersey- naturally my next selection would be the county I live in: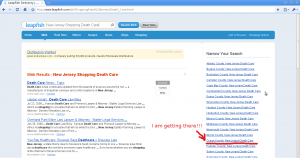 How about that?!!! Turns out LeapFish is so intuitive it knows about every city in my state- so just for the heck of it I decided to check and see what kind of death care shopping I can do in Jackson, NJ: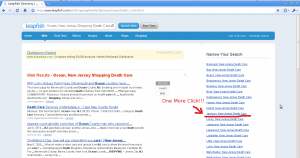 And the relevancy of my final destination in LeapFish directory? Google search results associated with the death of Michael Jackson?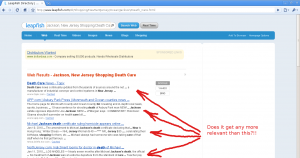 What can I say? I am extremely disappointed. I am sure few results of local funeral directors or even a local WalMart with the line of their latest caskets would not be as disappointing. Since LeapFish is using some APIs from Google, they could have really impress me by showing me a few relevant products using Google Base API.
So yeah, I am desperate for the attention from Matt Cutts. Matt could you please explain to me how this sort of "directories" improve the State of The Index? In my opinion the LeapFish Directory does just the opposite- LeapFish pollute the Internet.
If you are interested to find out more about LeapFish I highly recommend LeapFish Review by Better Business Bureau.