It was not the question of "if" but rather "when" would Google finally monetize on their "free" service called Googe Places (aka "Google Local Ads" and "Google Local Business Center"). If you have not logged into your account today, there is a surprise waiting for you. Google is offering you to "yellow tag" some features on your listing for a flat $25 per month fee. Depending on your choice, a yellow tag will appear in your listing, which should encourage internet users visit your website, browse your business' photos and videos or read the "Google place posts":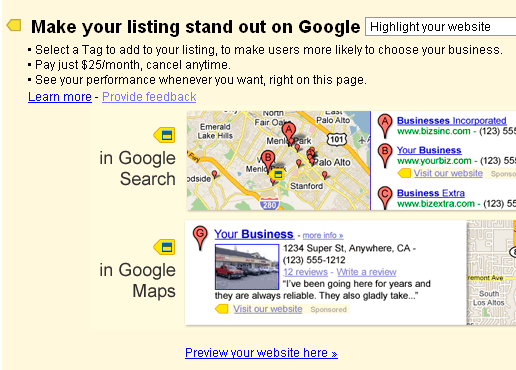 I was trying to find, without any success, a business using this new "advertising" opportunity with Google. Maybe because it is new.
Should you jump on using this new "yellow tagging" advertising? It all depends. If your listing is already getting good results, above described yellow tag can draw more eye-balls to your listing. The good news is that you can give it a try for one month to see how well will it work for your business.
Have you seen these "yellow tags" around yet?
UPDATE, June 25, 2010: Apparently Google has been rolling out tags from city to city since April 20, 2010. I understand, however, that at this time not every one has this option in their Google Places Accout… yet.