After launching Top 100 Real Estate Blogs few months ago, Jim Cronin of Real Estate Tomato, had raised a question about Matrix Real Estate Blog and how the blog is ranked by our list. Jim's concern had to do with what he claimed as unreliability of Alexa Rank:
Another example of how wildly poor the reporting from Alexa is… Miller Samuel's Matrix – arguably a top 10 most trafficked RE blog has you posting an Alexa ranking of: 545,538. The data is so far off as a relative measure to reality. I'm telling you, it's got to go.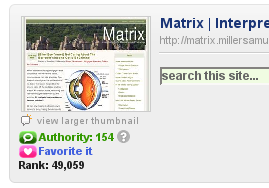 However, after taking closer look, it became apparent that our list did not rank Matrix even in the top 100 blogs not because of Alexa. Technorati rank was the biggest problem. For a long time, Technorati had no rank whatsoever for Matrix. With the help of fellow blogger and internet entrepreneur, Andy Beard, the Technorati fixed rank for Matrix. Although our list still lists Matrix at 100+ position, I can see it rising to the top of the list with the next update.
The conclusions I can draw from this experience is that not too many bloggers are really concerned with Technorati "authority". Besides ranking on the lists that factor that authority to rank the websites, there seems to be no obvious reason to care. However if you have submitted your blog to the list, check if Technorati is reporting these figures for your blog. If not, you can contact them to see if your blog was banned for over pinging.
If you are using WordPress, consider using Ultimate Smart Update Pinger plugin. This plugin will prevent your WordPress to over-pinging Technorati as well as other services.