UPDATE May13, 2010: Things pertaining to LeapFish.com, their founders and management, along with related startups are no longer of interest to me, therefore no further comments are allowed on this post. There are also more reliable sources out there (such as Better Business Bureau) to help you make an informed decision about LeapFish.
***You may also want to know that the Law Firm of Daniel Bakondi, in San Francisco, CA, is investigating a possible Class Action Law Suit Against LeapFish.
Update Nov. 9, 2009: It appears that LeapFish is no longer using framesets on their website.

A mention by US Today, stream of hundreds of Tweets , mentioned by hundreds of blogs, a "cutting edge" video on youtube- LeapFish.com relaunch can certainly be seen as enormous success, except…
The leading technology blogs continue to give LeapFish.com nothing short of a "cold shoulder".
All the buzz surrounding the relaunch is focused on how sexy and nice looking the new website is, no one seems to be trying to "flip beyond the cover page".
I would like to write about LeapFish's implementation of framesets on their pages that may actually spook an unseasoned Internet user into believing that they are visiting unsecured websites.
If you search LeapFish for "Read Write Web" for example, the website returns nice clean results with the most relevant link in number one position: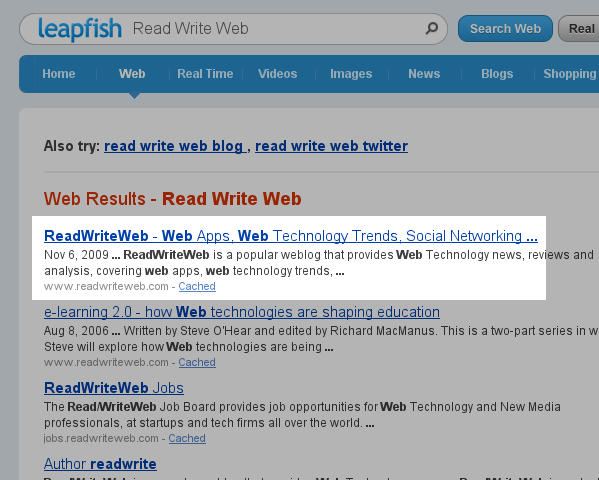 Considering the average user expectation, most of us would expect to land on http://www.readwriteweb.com/ – it is however not the case with LeapFish. After clicking the the link you end up on a nice lookng LeapFish page which embeds (via frameset) the content from The Read Write Web and the LeapFish bar at the bottom of the page: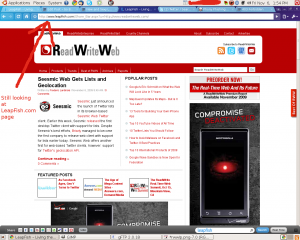 Click on the above image to view it in full size
While visitors to The Read Write Web may not care at all. Visitors to websites like Amazon can get confused and and may be led to believe that shopping on Amazon and other websites are no longer secure. Let me show you an example of what I mean. The following shot is of my Amazon account page while accessing the website directly (typing http://www.amazon.com into my browser):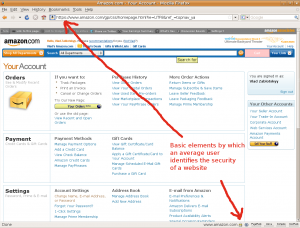 Click on the above image to view it in full size
The HTTPS as well as the lock icon are the basic signs by which an average internet can identify whether or not website is secure.
Now the screenshot of the same page but via frameset on LeapFish.com: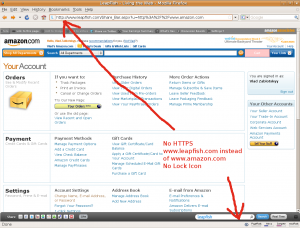 Click on the above image to view it in full size
Both HTTPS and lock icons are missing. And the URL clearly says you are still on LeapFish.com. Even though I consider myself an above average Internet user, before I logged into my Amazon account via the frameset on LeapFish I had to check the code of the page first: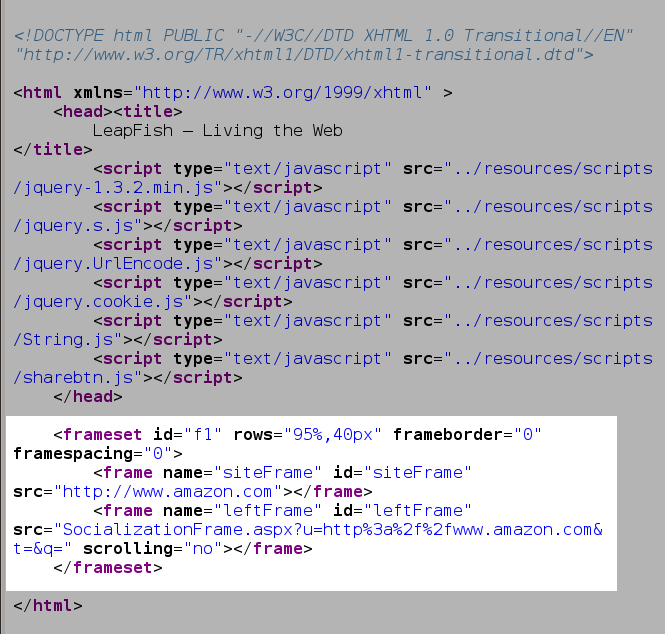 I wanted to know if my Amazon login info is safe with LeapFish. How many users do you think will do that?
Potential Issues With Google?
AdSense users can tell you how tough Google is when it comes to enforcing terms and condition and how easy it is to get banned. Google Search API TOS do not address the use framesets- so if you know if use of framesets allowed please enlighten me: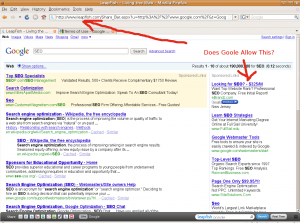 Click on the above image to view it in full size
If you are interested to find out more about LeapFish I highly recommend LeapFish Review by Better Business Bureau.