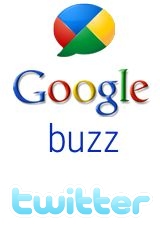 UPDATE, March 2, 2010: After experimenting with a plugin for Google Buzz, I have decided not to use on at this time. All available plugins as of now offer to ad comments to Google Reader items- this potentially can scatter the discussion all over places. Hopefully a better solution will be implemented soon.
With the arrival of Google Buzz, I began to question whether or not I should continue to concentrate on Twitter. I hope I am not the only one. Two days ago Twitter decided to intruduce even more "nofollow" attributes this time to their internal linking structure. I understood (but did not agree) when they introduced the first round of nofollow attributes to their links, I guess as young startup you needed to do what you needed to do.
So today I have replaced the Tweetmeme button (courtesy of Tweetmeme ) with new and shiny Google Buzz button (courtesy of Hameedullah Khan). The Tweetmeme button was moved to the button of each post. This is just a symbolic gesture of my personal dissatisfaction of the way Twitter is "innovating", I have nothing but love for Tweetmeme.
Twitter has bigger issues to deal with….
For Twitter trying to manipulating the flow of the Google juice at this stage of the game is really childish, and if that is the reason for the latest change I just feel sorry for Twitter. Really guys, is this the best you've got? Now if the recent change was made as a further attempt to eliminate spam my question is the same, is this the best you've got? There are ways to eliminate spam without punishing your users.
There is also another factor, and I maybe completely wrong about it… I appears to me that many of my online are starving for a more meaningful way to keep the conversation going (which in my opinion is impossible to have on Twitter). So if you compare Twitter and Google Buzz from that perspective, Google Buzz wins hands down, and if you thought Google Buzz is no threat to Twitter you should really think again.
Now back to the new and shiny Google Buzz button- you need to use your GMail/Google Reader to interact with it. You can also follow Go Beyond MLS on Google.