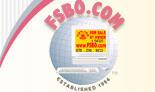 FSBO.com is well known website that assists people to sell their property on their own. FSBO.com was established in 1994, while Alexa indicates that website went live in 1998. One of the biggest selling point of FSBO.com is the fact that many people may consider choosing their services in order to avoid paying commissions to real estate agents.
It is quiet easy to locate "for sale" properties using FSBO.com. All you need to do is to select City and State, and the website will bring back properties in that City and surrounding area. The down side of this search is that results are limited only the properties listed by FSBO.com and would not reflect market conditions in that particular area.
If you are planing to advertise your property with FSBO.com you should expect to be charged for their services some where from $70 to $500 depends on what "package" you chose. In order to have you listing features in MLS systems, your bottom line can be $500+commission to selling broker (2.5-3.5%).
There are currently only two reviews about this website available at Amazon.com. If you feel that above information about this website is incorrect please send us your comments and we will gleadly correct all errors.