By
UPDATE May13, 2010: Things pertaining to LeapFish.com, their founders and management, along with related startups are no longer of interest to me, therefore no further comments are allowed on this post. There are also more reliable sources out there (such as Better Business Bureau) to help you make an informed decision about LeapFish.
***You may also want to know that the Law Firm of Daniel Bakondi, in San Francisco, CA, is investigating a possible Class Action Law Suit Against LeapFish.
Update: The new LeapFish has finally launched. You can read my analysis on LeapFish implementation of framesets and how confusing it can be for users.
After rather a painful year LeapFish.com- a meta search aggregator site just like Dogpile.com or Mamma.com, is ready to launch what they call it "LeapFish 2.0″- claiming that it will solve the real-time search.
Believe it or not I, of all people, was on of the "few privileged" to view their "test" products. However I could not keep quiet about my discovery: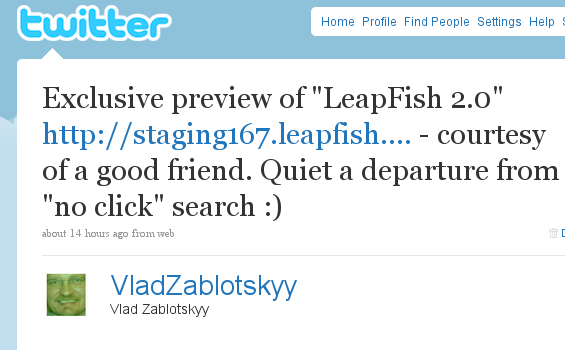 And of course LeapFish killed that subdomain few minutes after my "Twitter broadcast". Did they find my viewing of their new product not welcomed? Or is it also possible I "tuned in" at the end of the exhibit of their product to their supporters? I will never find out.
The new design has many flaws and way too many Ajax widgets- it felt as I was looking at the dashboard of WordPress. It will cause a huge load time issues if released as it was seen by me yesterday. Sometimes less means more. The notion that LeapFish will solve the real-time search is a myth to say the least. It is no briner that search engine gurus like Danny Sullivan would never consider LeapFish as contender to solve the real-time search problems.
If you have never heard of LeapFish.com before here is a short history rundown…..
LeapFish launched about a year ago and was given a somewhat cold shoulder by TechChrunch. Instead of trying to appeal to the hearts and minds of the technology and online marketing crowd they were focused on their business more and got caught with their "pants down" by the same TechChrunch. After firing the employee who engage in the alleged click fraud described by TechChrunch, the leapfish CEO still tried to blame TechChurnch for disliking LeapFish:
I am disappointed at this post by you and by TechCrunch. You never contacted us to verify the information you posted or even checked to see what our position was as a company around such behavior before you published. You apparently called in but didn't make the effort of speaking with someone about this. Frankly put, I find your post's title and content irresponsible and distasteful. – Ben Behrouzi, CEO of LeapFish (you can find the full text of his rebuttal at http://www.benbehrouzi.org/2009/02/04/leapfish-gets-second-lashing-from-techcrunc/ – apologies to my readers for not providing a click-able link).
Dealing with criticism in an adult matter is not a virtue of LeapFish, instead CEO of LeapFish decided to go on a domain shopping spree – threatening to expose the "real' Vlad Zablotskyy. I have to say that I am surprised they never threatened to sue TechChrunch- or Michael Arrington just laughed at the threat if they did in fact receive one. However is I was Robin Wauters I would make sure I own forever the .org .net and other variations of his name.
But the past is just that- the past. The true test for the company will be the future and in particular next few weeks and months. The first advertisers and investors are about to reach their first anniversary and their credit cards will be charged the renewal fee- it will trigger many to reexamine their "investement" in LeapFish. It would be in LeapFish best interest to have as few disappointed "investors" and "advertisers" as possible, and the only way to do so is to send your advertiser top quality traffic. While they may have been successful in selling their inventory (keywords)- the increase in traffic was and is disproportionately slow. Even the most favorable statistics from Compete.com (showing LeapFish as having almost 500,000 visitors in September)- do not justify an investment of $1,000+. Especially if LeapFish.com indeed has "hundreds" of advertisers in their system. I will do some math about LeapFish statistics in the upcoming posts. I doubt however the launch of their new product will stop the upcoming wave of dissatisfied clients- for LeapFish's own sake and their future I hope I am wrong. Nor do I think this upcoming launch will bring the necessary volume of traffic to justify the price of advertising. Again I hope LeapFish proves me and other critics wrong for their own good.
If they don't take drastic measures to purchase or otherwise increase traffic to their site- LeapFish, or at least their business model, will not survive beyond 2009.
If you are interested to find out more about LeapFish I highly recommend LeapFish Review by Better Business Bureau.
Disclosure: Everything written above is my personal opinion and my interpretation of events as I see them. You are free to form your own opinion which may or may not agree with the above post. You are however asked to show some manners (aka "being polite") if you decide to leave comment below. The comments from LeapFish management will be moderated and may be removed if I find them inappropriate.